SV-NET | Network Servo System
With the controller (equipped with I/O unit as standard) as its mainstay, the SV-NET driver controls diverse AC servo motors freely and perfectly, thus enabling any desired motion control to be added.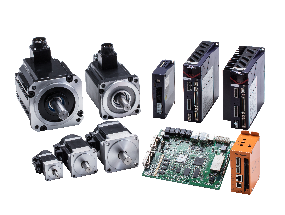 Our SV-NET makes customer's stand-alone systems even simpler,more compact and easier to use.
Our SV-NET simplified network motion control system can simultaneously control up to a maximum of eight axes for stand-alone systems. SV-NET guarantees that stand-alone systems being used by customers in their production lines can be refined into even simpler and more compact ones. Using CAN in the physical layer, SV-NET can meet diverse customer needs ‒ for customers who wish to continually make use of their existing upper-end equipment (controllers), or those who are considering in-house manufacture of this particular part of their systems. Four different series of motors are available to combine with SV-NET. Motors in both series employ our proven resolvers (with track records of automobile onboard use) as a sensor. Simple and compact, yet the motors exhibit high reliability.
Features
Simple Configuration
The controller ‒ capable of controlling up to a maximum of eight axes ‒ integrates the sequence controller, motion controller and I/O u nit into one single unit, thus realizing a simple configuration for the entire system.
Compact Design
Each one of the modules that constitute the system features a body designed with an extremely compact size foremost in mind.
Abundant Variations
Modules for the controller, driver and servo motor come in abundant variations to choose from.
Program development ‒ made easy with our Motion Designer
Our dedicated "Motion Designer" efficiently performs Program development.
System Configuration Examples
Conventional system configuration
Regardless of size of the entire system, configuration of conventional types of sequencer-based motion control system involves many units, meaning high initial costs and more energy to operate them. The many units involved also put a great burden on operators who are required to acquire the knowledge and skills to operate them.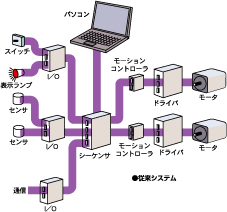 Simple configuration ‒
Great advantage of SV-NET system
The SV-NET servo system allows a simple yet highly functional motion control system to be configured easily. This is made possible by the controller equipped with I/O unit (standard feature) combined with the superior network command function that give full play to the driver and abundant variations of motors. As such, our SV-NET system offers optimal performance capabilities and advanced functions for medium and smaller systems, thereby achieving total cost savings.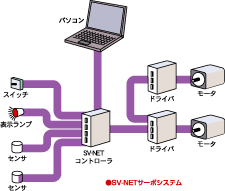 【Case 1】
For customers considering in-house manufacture of an upper-end system (controller):
Thanks to the use of CAN in the physical layer, SV-NET functions as a highly versatile network system. Customers who already have CAN's upper-end system or those who plan to develop such an upper-end system in-house will find it advantageous to introduce the SV-NET system.
Note: Conclusion of a separate contract is required to reveal the system's communication specifications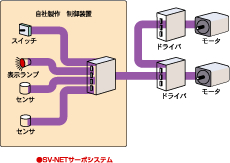 【Case 2】 
The case of placing a PC in the upper end via a serial data communication network such as RS-232C:
If tasks require neither high speed nor complex motions, nor multiaxial synchronized control, it is possible to control the SV-NET driver via a serial data communication network such as RS-232C.
Note: With this configuration, the use of our software packages" Master of SV-NET III" enables simple verification of system operability, evaluation and parameter management, among others.