Trackball
Pointing device provides smooth & seamless operation



Smooth operability
Ball rolls differently for each size, ensuring smooth ball motion.
Seamless and smooth operation.


Seamless movement regardless of narrowness
Seamless movement just as the ball rolls, even in a compact device.


Many sizes
Ball sizes from 1 to 3 inches (four sizes), offering the perfect size for your device.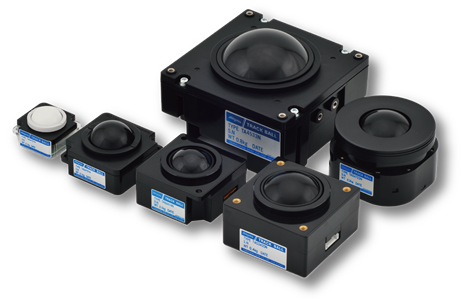 Trackball Applications
Trackballs are used as the pointing means in various devices. Smooth sequential action in a limited space.

Specification
Size
1 inch
1.4 inch
1.4 inch
Model
TAS4721N1113
TAS4701N1000
TAS3414N0012
Features
・Compact & lightweight
・Removable ball
・Output via connector
・Uses photo-sensors
・Removable ball
・Output via connector
・Uses photo-sensors
・Output via connector
・Uses photo-sensors
Supply Voltage
DC5 V ± 5 %
100 mA Max.
DC5 V ± 5 %
100 mA Max.
( It does not fit lighted ball model )
DC5 V ± 5 %
100 mA Max.
Output
Output axes
Two axes(X,Y)
Two axes(X,Y)
Two axes(X,Y)
Output Wave form
Pulse
Pulse
Pulse
Number of pulse
(One rotation of the ball)
345 ± 10 %
215 ± 10 %
215 ± 10 %
Output form
CMOS Output
CMOS Output
CMOS Output
Color
Ball
Ivory White
Black
Black
Cover
Black
Black
Black
Case
Clear
Black
Black
Ball Driving Force
(at ball surface)
0.196 N(20 gf) Max.

0.196 N(20 gf) Max.

0.294 N(30 gf) Max.

Operation Temp.
0 to + 45 ℃
(No condensation)
0 to + 45 ℃
(No condensation)
0 to + 45 ℃
(No condensation)
Humidity
90 %RH Max.
90 %RH Max.
90 %RH Max.
 Mass
Approx. 0.1 kg
Approx. 0.1 kg
Approx. 0.1 kg
Size
2 inch
2 inch
3 inch
Model
TAS3420N0022
TAS4723N2000
TA 4533N0023
Features
・Output via connector
・Uses photo-sensors
・Laser sensor type
・Operable ring parts
(push, pull, turn)
・Large size
・Output via connector
・Uses photo-sensors
Supply Voltage
DC5 V ± 5 %
100 mA Max.
DC5 V
(4.25 to 5.25 V)
100 mA Max.
DC5 V ± 5 %
300 mA Max.
Output
Output axes
Two axes(X,Y)
Two axes(X,Y)
Two axes(X,Y)
Output Wave form
Square wave
Ball part : Square wave, CMOS Level
Ring part : UART, CMOS level
Square wave
Number of pulse
(One rotation of the ball)
170 ± 10 %
<Resolutions>
Ball part :170 count ±10 % (One rotation of the ball)
Ring part : X, Y, Z axes and H 256 level
(-128 to +127)
300 ± 10 %
Output form
CMOS Output
TTL Output
Color
Ball
Black
Black
(Ball/Key Top/Outer Ring/Cover/Case)
Black
Cover
Black
Black
Case
Black
Black
Ball Driving Force
(at ball surface)
0.294 N(30 gf) Max.

0.294 N(30 gf) Max.

0.245 N(25 gf) Max.

Operation Temp.
0 to +45 ℃
(No condensation)
0 to +45 ℃
(No condensation)
0 to +45 ℃
(No condensation)
Humidity
95 %RH Max.
95 %RH Max.
95 %RH Max.
Mass
Approx. 0.4 kg
Approx. 0.2kg
Approx. 0.8 kg