Home
> Company - President's Message
President's Message
Tamagawa Seiki has three characteristics based on its corporate philosophy.
The first is that we have long been involved in the defense-related business, which often develops products that meet the individual needs of our customers, and that our business style is closely aligned with individual customers.
The second is that the founder's belief for his hometown have been passed down to the present. "Minami Shinshu・Iida", the hometown of the founder and where the current head office is located, was poor with no major industries. The founder of TAMAGAWA SEIKI CO., LTD. started the company with the desire to entrench industry in such a hometown and to preserve it for future generations. That thought has permeated into our company as our corporate philosophy, and we believe that it is our great social responsibility to establish roots in the land and develop industries, in other words, to grow together with the local community. The Hachinohe Region of Aomori Prefecture, where we have moved into by a good chance, has the same concept and is now becoming an important base for the development of our core products.
The third is that "developing technology and selling technology", in other words, it is a business style that emphasizes technology development. Since our founding, we have been disseminating our unique technology cultivated in the development of servo components, including "Sensors", from local areas to the world.
The market surrounding us will become more and more competitive in the future, and it is also an era where unexpected situations occur naturally. In order to respond to such markets and times, when we are at a loss for a decision, we will make decisions by returning to the aforementioned corporate philosophy. We would like to continue to be closer to our customers and walk forward together, hence we ask for your further guidance and encouragement.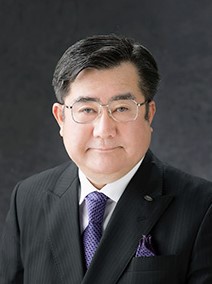 Board Chairman & CEO
Yasuo Hagimoto
Tamagawa Seiki celebrates its 85th anniversary this year, and has been able to grow with the support of many people. Since our founding, we have established roots in the local community under the corporate philosophy of "developing technology and selling technology" and have grown by expanding our markets into the fields of Defense Application (Defense, Aviation and Space), Car Application (Automotive, Railroads) and Factory Application (Robots, Automation). Domestically, these businesses are carried out at the No. 1, No. 2, and No. 3 plants in the area of Iida city of Nagano Prefecture, and five other plants in the area of Hachinohe city of Aomori Prefecture. Overseas, Tamagawa Seiki Suzhou Co., Ltd., which was established in Taicang City, China, manufactures automation and automotive products, and in Vietnam, we are preparing for future market changes for automotive products by operating an EMS factory near Hanoi. However, the recent world situation is becoming more unpredictable, with the unabated corona crisis, Russia's military invasion of Ukraine, energy shortages, soaring commodity prices, weak yen, and semi-conductor shortages.
Under these circumstances, the competitiveness of companies is being questioned more and more, and it is important to strengthen it. We believe that we will be able to win the trust of our customers by further strengthening our competitiveness by working together as a trinity by linking the development, manufacturing and sales capabilities. In the future, Tamagawa Seiki will continue to train its own technologies, refine its technologies, and take on challenges in new technologies, and aim to be a strong company that can compete globally in cooperation with our group companies and partner companies. I would like to conclude my greetings by asking for your continued patronage.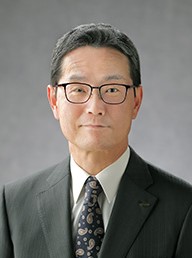 President & COO
Tadanori Matsuo