Brushless resolvers (FA-SOLVER)
Brushless resolver can be used for high accurate feedback of position and speed sensing, and pole detection of motor. Through their features of resistance for harsh environment and other reasons, they are used with motors for machine tools and robots, in steelworks.
We collectively call these brushless resolvers as FA-SOLVER, and renewed their lineup to cope with a new FA era.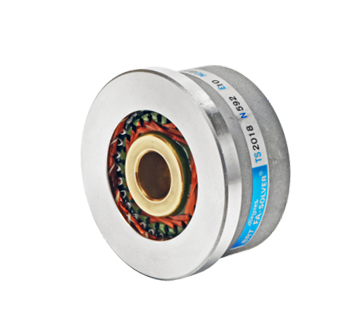 FEATURES
Wide temperature range
Built-in type : -55 to +155 °C
Shaft type : -30 to +100 °C
Temperature compensation type (BRT): -10 to +80 °C (For details, please refer to each individual specification.)
Superior environment resistance
Vibration : 196 m/s2{20 G} at 10 Hz to 500 Hz, for 2 hours to each of three axes.
Shock : 981 m/s2{100 G} for 6 ms, 3 times to each of 6 axes, 18 times in total
Humidity : 90 % RH or above at 60 °C
High speed rotation
Built-in type : 10,000 min-1(r/min)
Shaft type : 6,000 min-1(r/min)
Allowable rotation speed of some types may differ from the above values. For details, please refer to each individual specification. In addition, types exceeding 10,000 min-1(r/min) are also available.
High reliability
Resolver has the similar structure to electric motors but has high reliability because of no winding coil on its rotor. In particular, the built-in types are free from maintenance because ball bearings are not installed in them.
Absolute position detection
Long-distance transmission
Robustness against noise enables long-distance transmission
Capable of compact incorporation
The use of built-in types of Resolver minimizes housings of motors. Best suited for compact design
Applications
Brushless Resolver Shaft type
Multiplication Factor of Angle: 1X
BRX (1 Phase Input / 2 Phase Output)
Size
8
10
11
Model
TS510N35E18
TS520N46E9
TS530N39E15
Primary
Rotor
Rotor
Rotor
Power supply
Voltage(Vrms)
7
7
7.5
Frequency(kHz)
3
3
4
Input current(mA)
4.7
8.3
11.9
Transformation Ratio
0.5
0.5
0.53
Impedance
Zro(Ω)
860+j1,230
847
400+j485
Zso(Ω)
-
-
190+j310
Zss(Ω)
205+j190
252
65+j180
Direct current resistance
Rotor

(Ω)

160
131
26
Stator

(Ω)

90
65
17
Phase shift(°)
+9.5
+6.5
0
Residual voltage(mVrmsMax)
15
15
10
Electrical error('Max)
±15
±10
±7
Mass(kg)
0.045
0.070
0.116
Multiplication Factor of Angle: 1X
BRX (1 Phase Input / 2 Phase Output)
Size
11
15
25
Model
TS530N33E10
TS540N33E12
TS2014N141E26
Primary
Rotor
Rotor
Rotor
Power supply
Voltage(Vrms)
18
15
10
Frequency(kHz)
5
1
4.5
Input current(mA)
18
15
22
Transformation Ratio
0.5
0.5
0.5
Impedance
Zro(Ω)
1,000
1,030
250+j377
Zso(Ω)
-
680
400+j690
Zss(Ω)
380
540
326+j623
Direct current resistance
Rotor

(Ω)

38
115
121
Stator

(Ω)

70
88
69
Phase shift(°)
-5
+5
-7.5
Residual voltage(mVrmsMax)
15
20
15
Electrical error('Max)
±10
±10
±10
Mass(kg)
0.110
0.255
0.620
Multiplication Factor of Angle: 1X
BRT (2 Phase Input / 1 Phase Output)
Size
11
11
15
Model
TS530N33E9
TS530N36E10
TS540N33E10
Primary
Stator
Stator
Stator
Power supply
Voltage(Vrms)
3.5
12
10
Frequency(kHz)
3
1∼2
4.5
Input current(mA)
-
20∼12
6.3
Transformation Ratio
1) 0.56
0.5
0.5
Impedance
Zro(Ω)
-
-
-
Zso(Ω)
1) >500
-
1,600
Zrs(Ω)
2) <1,000
-
1,500
Direct current resistance
Rotor

(Ω)

-
-
180
Stator

(Ω)

-
-
19
Phase shift(°)
-
-
-5
Residual voltage(mVrmsMax)
-
-
15
Phase error('Max)
±10
6
±10
Mass(kg)
0.11
-
0.255
Multiplication Factor of Angle: 1X
BRS (2 Phase Input / 2 Phase Output)
Size
*10
*15
Model
TS520N202E4
TS540N202E4
Primary
Stator
Stator
Power supply
Voltage(Vrms)
7
7
Frequency(kHz)
1
1
Input current(mA)
20
20
Transformation Ratio
0.5
0.5
Impedance
Zro(Ω)
-
-
Zso(Ω)
354
354
Zrs(Ω)
2,000
3,300
Direct current resistance
Rotor

(Ω)

-
-
Stator

(Ω)

-
-
Phase shift(°)
-
-
Residual voltage(mVrmsMax)
-
-
Phase error('Max)
±20
±20
Mass(kg)
0.100
0.330
*Temperature Compensation
1) measured at 11.8Vrms , 400Hz
2) measured at 6.8Vrms , 400Hz
Brushless Resolver Built-in type
Multiplication Factor of Angle: 1X
BRX (2 Phase Input / 2 Phase Output)
Multiplication Factor of Angle: 1X
BRT (2 Phase Input / 2 Phase Output)
Size
10
30
15
Model
TS2030N71E20
TS2142N1E63
TS2031N121E19
Primary
Rotor
Rotor
Stator
Power supply
Voltage(Vrms)
10
7
12
Frequency(kHz)
4.5
5
10
Input current(mA)
16
35
―
Transformation Ratio
0.5
0.5
0.3
Impedance
Zro(Ω)
275+j 572
100+j 170
1125.1+j2450.7
Zso(Ω)
265+j 477
-
1,200
Zss(Ω)
226+j 314
200+j 350
2,500
Direct current resistance
Rotor

(Ω)

122
32
(230.6)
Stator

(Ω)

102
53
(96)
Phase shift(°)
+7
-9
-
Residual voltage(mVrmsMax)
20
20
20
Electrical error('Max)
±10
±10
±15
Mass(kg)
0.050
0.700
0.120Nom