Positioning Systems (Enviroment Resistance)
Positioning System(Sensor/Synchro)
We respond to your every need for motion control with high sensor technology and excellent system technology.
We provide you with highly accurate and reliable positioning systems supported by various types of indicators and transducers equipped with environmentally rigid synchro transmitters as a sensor.
An array of products is provided to fully meet all kinds of applications. They are capable of directly interfacing with upper systems such as programmable controllers, sequencers, etc. They are also applicable to the matching with, and the extension of existing systems.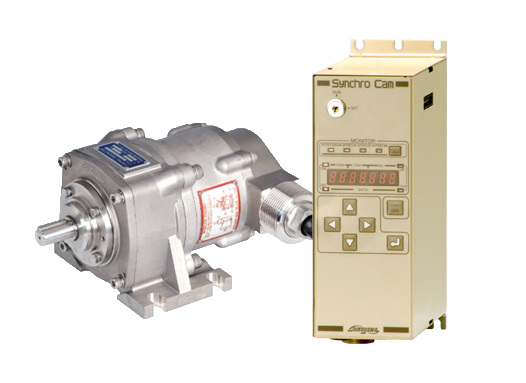 Functional List Sensor (Syncro)
Structure
Model
Function/Features
Product name
Mounting
Built-in sensor
Others
Single speed/Environment resistance
Synchro transmitter
TA4470
Base-mount type
TS2177N1
(BCX)
・1X-BCX
・AC100 V 50/60 Hz
・Oil-bath type
・Heat resistant up to +120 ℃
・IP67
・Gear ratio 1/1 to 1/16, 2/1
TA3470
Flange type
TA4469
Base-mount type/
Direct type
ー
・1X-BCX
・AC100V 50/60 Hz
・Oil-bath type
・Heat resistant up to +120 ℃
・IP67
・Synchro is directly connected to the unit.

Double speed/Environment resistance
Synchro transmitter
TA4471
Base-mount type
TS2178N1
(BCX)
・Double speed 1X-64X
・AC26V 400 Hz
・Oil-bath type
・ Heat resistant up to +120 ℃
・IP67
・Gear ratio 1/1 to 1/32
TA3471
Flange type
Widespread type
Synchro transmitter
TA1664
Base-mount type
TS563N3
(23BCX)and others
・It is possible to build with varius synchro sensor types.
・Widespread type
・Gear ratio 10/1 to 1/256
・Double speed type is also available.
Small size
Synchro transmitter
TA1759
Base-mount type
TS563N3
(23BCX)and others
・It is possible to build with varius synchro sensor types.
・Small size type
・Gear ratio 5/1 to 1/128
Functional List Converter
Product name
Model
Analog
display
Digital
display
Angle/
Position
output
Comparative
output
Zeroing
function
Preset
function
Gain
setting
Function/Features
Synchro indicator
TA50
TA51
TA52
TA53
TA55
○

・With synchro receiver (TR) built in, Single pointer
・Indicator size: 80 mm to 150 mm

Synchrocam
TA4440
○
○
○
○
○
○
・Switch output 16 ch
・Position output PB20 bit or BCD6digits (with strobe signal)
・7 SEG LED 6digit display
・Tracking speed 300min-1(50/60 Hz),1500 min-1(400 Hz)
Synchrocam
TA4458
○
○
○
○
○
○
・Positioning output
・Switch output 16 ch
・Position output PB20 bit or BCD6digits (with strobe signal)
・Tracking speed 300 min-1(50/60 Hz)