Optical Level Gauging System

Optical Level Gauging system is an optical sensor measuring level of fluid system.
This system uses optical refraction. In air, light coming out from illuminators goes back to receiver because of complete reflection of prism.
In liquid, the light passes the prism and does not reach to receiver.
Photocells including illuminator, receiver and prism are put vertically to generate signal depending on liquid level.
This gauge has matrix circuit and it lights illuminators with pulse offset repeatedly. Based on current value of photo receiver, height of liquid level is detected. Benefits of this method are;
More than 100 pcs illuminators and receivers can be controlled only with 5 lead wires.
Illuminators are lighted one by one to save current consumption.
Time of the illumination is short and it results longer lifetime of illuminators.
This Optical Level Gauging system is explosion proof type and passed DO-160 explosion proof test, and can be used for fuel level measurement in fuel tank.
This system does not have any movable parts. Therefore, there is no risk of jamming of movable parts and wear.
Illuminators ad receivers are in 2 lines, and monitor each line. Because of the 2 lines, illuminator and receiver failure can be detected by built in test. Even if one line would not work, another line can keep liquid level detection as redundancy.
If sloshing would be concerned, level signal outputs can be averaged with function of output signal delay. As option, prism cover is available for splash and illuminated condition.
Even frost would be put on prism, liquid level can be measured.
Processor Unit CPU calculates liquid quantity with signal of Level Gauge and signal from density sensor. Filter of Processor Unit reduces EMI noise to protect Level Gauge.
Liquid quantity data is transmitted to airplane (Avionics) through ARNIC429 serial communication.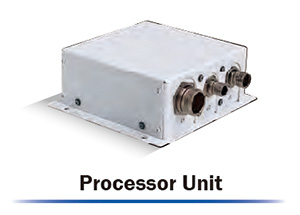 Strong Points
1 - Low Installation Cost
Installation of a Compensator is not required for the "Optical Level Gauge".
2 - Easy Calibration
The "Optical Level Gauge" does not require temperature calibration required for capacitance type.
3 - Easy Maintenance
Since the "Optical Level Gauge" measure the liquid level itself, there is no temperature dependence, and there is no change in measured value over time, therefore no need to calibrate.
The digital built-in-test can quickly identify the location of any faulty cable or sensor. This reduces the cost of maintenance and support associated with troubleshooting and replacing failed sensor.
Optical Level Gauging System

Specifications
Item
Specifications
Sensing Length
846 mm (Customizing)
Temperature
Level Gauge and Processor Unit
Operational / Storage : -54 °C to 71 °C
System Accuracy
± 1 % at full scale
Input Power
28 VDC
0.2A /1probe (Including processor Unit)
Connection Number
Max. 10 Level Gauges / Processor Unit
Mass
Level Gauge:1.5 kg Max
Processor Unit:1.0 kg Max
Applicable Fluids
MIL-DTL-5624 Grade JP-4,
MIL-DTL-83133E Grade JP-8,
MIL-DTL-5624 Grade JP-5,
ASTM D-1655 JET-A / JET-A1
Applicable for kerosene, light oil, gasoline and water
MTBF
Level Gauge : 100,000 Hr Min
Processor Unit : 50,000 Hr Min
Qualifications
TSO C55a, DO-160, DO-178 (preliminary review)