Home
> Company - Company Profile
Company Profile
We strive to become more environment-friendly, to become an enterprise worthy of ever-greater trust by our customers.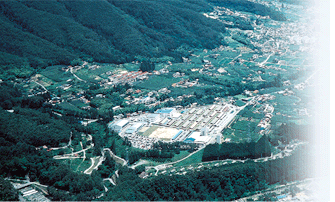 Since its foundation, Tamagawa Seiki has taken up the challenge of angular precision for control equipment, such as high-precision sensors, motors and gyros, and successfully delivered such equipment to its customers.
We are now one of the few makers in the world with the capability to develop and manufacture both two-dimensional and three-dimensional (spatial) position/angle sensors.
We have applied leading-edge high-precision sensor technology to our "Motion System,"whose fields of application are extending even to the space industry.
Established
March 3, 1938
Capital
¥100 million
Directors
Honorary Board Chairman : Hiroyuki Hagimoto (Ph.D., in Mechanical Eng'g.)
Board Chairman & CEO : Yasuo Hagimoto
President & COO : Tadanori Matsuo
Senior Managing Director : Hideo Kumagai (Ph.D., in Electrical Eng'g.)
Senior Managing Director : Masashi Uryu
Managing Director : Hiroshi Hagimoto
Managing Director : Kazuyuki Miyazawa
Director : Makoto Yamaguchi
Director : Tadasu Takigawa
Auditing Director : Toshiaki Ito
Auditing Director (Part time) : Yusuke Kishimoto
Number of Employees
TAMAGAWA SEIKI CO., LTD. : 644 (as of November 21, 2022)
Consolidated : 2,457 (as of November 21, 2022)
Plants
Headquarters
1879 Ohyasumi, Iida, Nagano Prefecture, 395-8515 Japan
First Plant
1879 Ohyasumi, Iida, Nagano Prefecture, 395-8515 Japan
Second Plant
1020 Kega, Iida, Nagano Prefecture, 395-8520 Japan
Third Plant
3174-22 Moto-Ohjima, Matsukawa, Shimoina-gun, Nagano Prefecture, 399-3303 Japan
Hachinohe Plant
1-3-47 Kita-inter Kogyo-danchi, Hachinohe, Aomori Prefecture, 039-2245 Japan
Tokyo Office
3-19-9 Shinkamata, Ohta-ku, Tokyo, 144-0054 Japan

Major Operations
Contract manufacturing, Sales and service of servo components (encoder, resolver, rate sensor, gyro, AC servomotor / driver / controller, step motor / driver, synchro, LVDT etc.), Surveillance Camera System, IMU, automatic control equipment and bio research reagents.
Sales
TAMAGAWA SEIKI CO., LTD. : ¥ 46.4 billion (as of November, 2022)
Consolidated: ¥ 72.4 billion (as of November, 2022)
*November 20 is our account settlement date
Sales Company
TAMAGAWA TRADING CO., LTD.
Honorary Board Chairman : Hiroyuki Hagimoto (Ph.D., in Mechanical Eng'g.)
Board Chairman & CEO : Yasuo Hagimoto
President & COO : Tadanori Matsuo
Managing Director : Tadasu Takigawa
Director : Masahiro Shiozawa
Auditing Director : Toshiaki Ito
Auditing Director (Part time) : Yusuke Kishimoto
Group Company
Tamagawa Hightech Corporation
Tamagawa Microtep Co., Ltd.
Tamagawa Seiki Electronics Co., Ltd.
Tamagawa Logistics Co., Ltd.
TAMAGAWA MOTORTRONICS CO., LTD.
Tamagawa TECHNOCREATION CO., LTD.
TAMAGAWA MOBILE EQUIPMENT CO., LTD.
TAMAGAWA AERO SYSTEMS CO., LTD.
Tamagawa Seiki Suzhou Co., Ltd.
Tamagawa Links Co., Ltd.
Tamagawa Sky Precision Co., Ltd.
Tamagawa Parts Manufacturing Co., Ltd.
Tamagawa Europe GmbH
TAICANG TAMAGAWA TRADING CO., LTD.
TAMAGAWA VIETNAM CO., LTD.
Major Clients
Mitsubishi Heavy Industries; Kawasaki Heavy Industries; Fuji Heavy Industries; Mitsubishi Electric; NEC; Toshiba; Hitachi; Matsushita Electric Industrial; TOYOTA; HONDA; ABB Automation Technology Products AB;Honeywell Inc.; Rockwell Collins Ministry of Defense ; Japan Aerospace Exploration Agency etc